Location: Liguria, Italy
Type: Residential
Project developed with Arch. Claudia Ponzio

A few steps from the small medieval center of Castellaro (IM), surrounded by centuries-old olive groves and with the sea on the horizon, we developed a project for a rural house called: "Casa degli Ulivi".
The Ligurian terraces with their long dry stone walls mark the landscape and they have been an integral part of these lands for centuries. Our main design goal for this project was to achieve the balance between environment and built, between natural and artificial.
The building blends with the territory through its horizontal lines, the walls are covered in local stones. The architecture opens up to the surrounding and to the landscape thanks to large windows generous outdoor areas .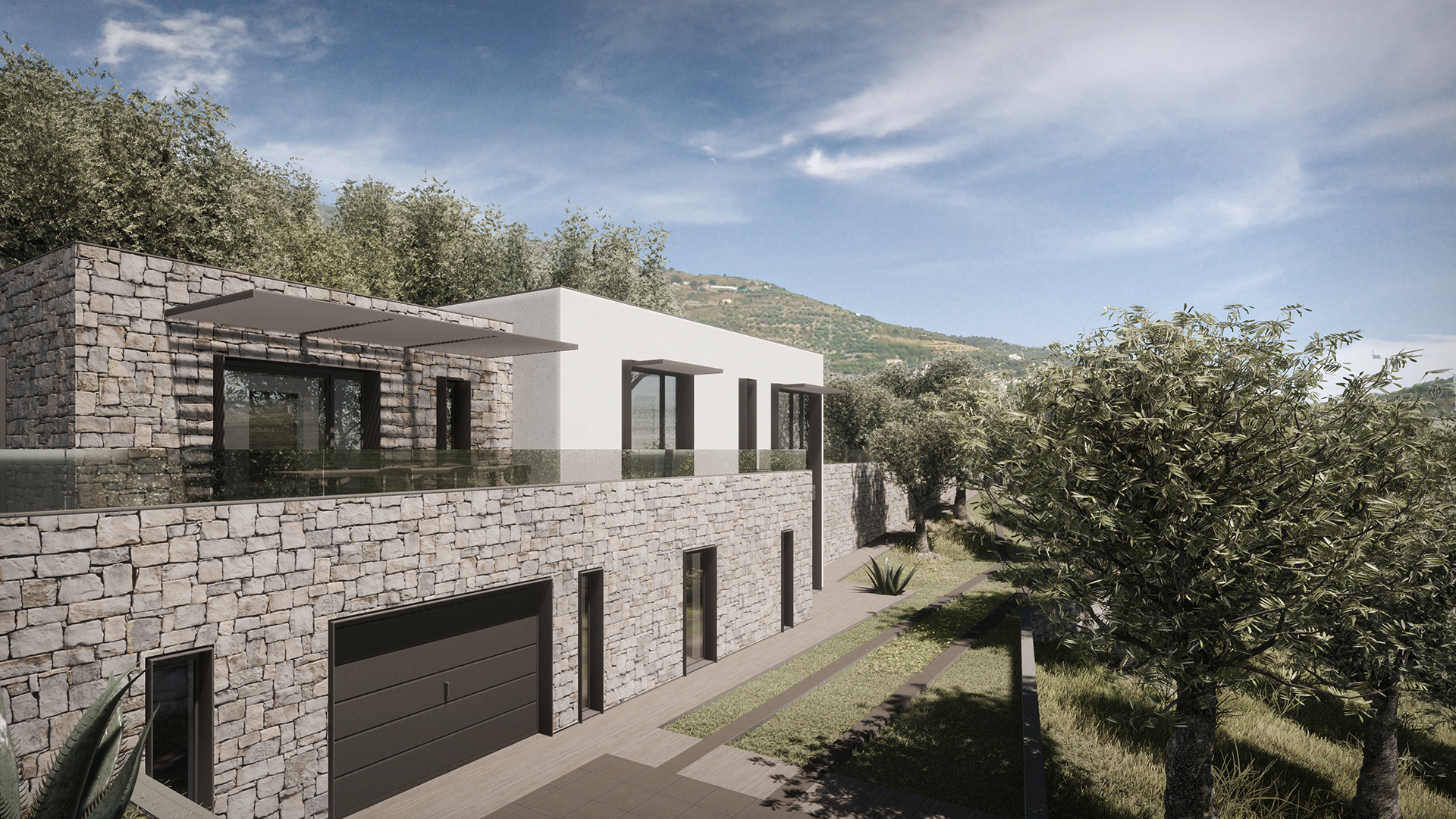 A simple, modern and functional volume that defines comfortable and bright interior spaces. Thanks to the implementation of  high-energy efficiency strategies and to an intelligent use of materials, "Casa degli Ulivi" is designed to have the smallest impact on the environment.
The external areas are designed to ensure the best use of green spaces with the goal to do not alter the existing position of the olive trees and the vegetation already present.
The large flat roofs can accommodate photovoltaic panels able to cover a large part of the building's energy needs
while, horizontal sunshades above the south-facing windows,  protect the interior spaces during the hottest months of the year.
"Casa degli Ulivi" is therefore conceived and designed around to the needs of a contemporary lifestyle in which the comfort of its residents and the respect for the environment are equally essential design elements.

The building is located on a stretch of land that extends from east to west (approximately 1500 sqm). On the original land, about fifty olive trees are already present and those will be maintained, for a large part, in theirs original position.
The house is positioned in the extreme west side of the plot and the whole intervention has the goal to keep as much as possible of the existing land unaltered in order to support the productivity of olive trees. The external flooring will work as large, open-air rainwater collector and underground tanks will store water for irrigation or domestic uses.
Large sliding windows create an almost imperceptible connection between the interior spaces and the landscape.
Access to the residence takes place from the east side through the local road. This multi-functional open-space
enjoys the best view over the valley and towards the sea.
The western portion the volume of the building offers a wide outdoor space that can be used as south facing protected patio.  The driveway, designed with the least possible impact on land, brings the car to the basement where it is located the garage and other ancillary spaces to the house.